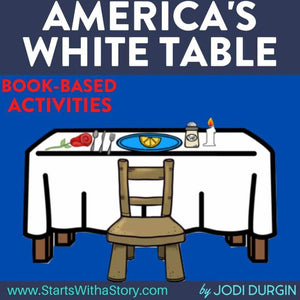 Clutter Free Classroom Store
America's White Table activities and lesson plan ideas
Regular price
$5.00
$0.00
Unit price
per
America's White Table Activities are now digital for distance learning with editable teaching slides and worksheets based on Margot Raven's book. Read aloud the picture book then use the printables or go paperless with Google or Seesaw to practice standards-based skills.
THIS READING UNIT FOCUSES ON USING THE MENTOR TEXT TO TEACH:
◼️ READING STRATEGIES
☐ point of view
☐ summarize / retell
☐ identify the main idea
☐ author's purpose
☐ cause and effect
◼️ SOCIAL EMOTIONAL LEARNING TOPICS
☐ being respectful
◼️ GRAMMAR & LANGUAGE CONCEPTS
☐ possessive nouns
☐ plural nouns
☐ adverbs
☐ articles
SUMMARY OF THE MENTOR TEXT: 
In this book, a young girl named Katie learns about the importance of honoring and remembering veterans on Veterans Day. Katie's mother teaches her and her sisters about the white table many Americans set for this day and what each item on the table symbolizes. They set a small table with an empty chair. There is a lemon slice and salt on the plate plus a turned over glass and a rose on the table.
Katie learns that her Uncle John is a veteran who was held prisoner when he served in the war. He will be joining them for dinner that night and the girls realize just how much this symbol means to him. Each girl makes a special gift to place on the table. Katie makes a book where she expresses her hopes that all Americans set a table like this to remember veterans. When Uncle John sees the table the girls have set, it brings tears of pride to his eyes.
THIS COLLECTION OF ACTIVITIES and LESSON IDEAS INCLUDES:

➜ Comprehension Questions categorized by reading strategy; text-dependent
➜ Social-Emotional Learning guidance lesson ideas & discussion topics based on the story
➜ Vocabulary Activities with kid-friendly definitions
➜ Grammar Topics selected to align with the text
➜ Focus Sentences use the book & author's craft as a mentor text to improve writing
➜ Lesson Planner summary, background info and planning space
➜ Story Mapping Printable identify character, setting, problem and solution
➜ Making Words Activity Page use any word from the book
➜ Focus Sentence copy work, identifying elements of the sentence, rewriting)
➜ Design a New Book Cover demonstrate understanding of the text by creating an illustration
➜ Predicting Activity primary-ruled and wider-ruled versions
➜ Summarizing Somebody → Wanted → But → Then → Finally
➜ Comparing and Contrasting using a Venn Diagram
➜ Cause and Effect analyze how events affect one another
➜ Visualization illustrate visualizations from the story and support thinking with text-based evidence
➜ Making Connections identify text-to-self, text-to-text, and text-to-world connections
➜ Thematic Writing Paper Use with the Writing Prompts... Makes a Great Bulletin Board
➜ 2 Sequencing Activities First → Next → Then → Last and Beginning → Middle → End
➜ 2 Vocabulary Activities Vocabulary Booklet and Word Mapping
➜ 2 Character Trait Activities listing traits and supporting traits with text-based evidence
➜ 30 Text-Based Writing Prompts 3 prompts for each of the following types of writing:
narrative
persuasive / opinion
descriptive
expository / informative
creative / story writing
procedure / how-to
list-making
letter / postcard writing
poem
book reviews
INCLUDED DIGITAL ACTIVITIES:
➜ 5 Teaching Slides to use for instruction (add questions, vocabulary, instructions, etc)
➜ 15 Student Pages for use in Google™️ Classroom or as editable files to create customized printables


---