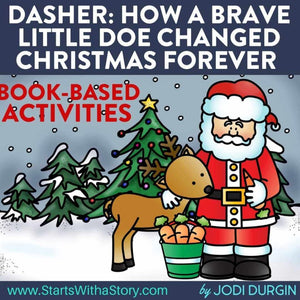 Clutter Free Classroom Store
Dasher: How a Brave Little Doe Changed Christmas Forever activities and lesson plan ideas
Regular price
$5.00
$0.00
Unit price
per
Our Dasher: How a Brave Little Doe Changed Christmas Forever Activities are now digital for distance learning with editable teaching slides and worksheets based on Matt Tavares's book. Read aloud the diverse picture book then use the printables or go paperless with Google or Seesaw to practice standards-based skills.
THIS READING UNIT FOCUSES ON USING THE MENTOR TEXT TO TEACH:
◼️ READING STRATEGIES
☐ making predictions
☐ visualizing
☐ analyzing character
☐ comparing and contrasting
☐ plot | problem and solution
◼️ SOCIAL EMOTIONAL LEARNING TOPICS
☐ kindness
◼️ GRAMMAR & LANGUAGE CONCEPTS
☐ nouns
☐ multiple meaning words
☐ adverbs
☐ prepositions
SUMMARY OF THE MENTOR TEXT:
Dasher and her family live at J.P. Finnegan's Traveling Circus and Menagerie. The reindeer are crammed into a small cage under the hot sun all day. People are always there to visit the reindeer. At night, Dasher listens to her Mama's talk about a magical place under the North Star. There the ground was covered with snow and they could roam about. Dasher wishes she could live in that magical place.
One night, when the wind blows open the reindeer's cage, Dasher takes a chance and runs into the night. She follows the North Star for as long as she can. Eventually, she runs into Santa and his horse, Silverbell. Dasher helps Santa and Silverbell deliver presents to children all over the world. At the end of the night, Dasher realizes she is at the magical place her mother told her about. While she loved living in the North Pole with Santa, she missed her family. Santa helps Dasher rescue her family and bring them home. That Christmas, the family works together to pull Santa's sleigh around the world.
THIS COLLECTION OF ACTIVITIES and LESSON IDEAS INCLUDES:

➜ Comprehension Questions categorized by reading strategy; text-dependent
➜ Social-Emotional Learning guidance lesson ideas & discussion topics based on the story
➜ Vocabulary Activities with kid-friendly definitions
➜ Grammar Topics selected to align with the text
➜ Focus Sentences use the book & author's craft as a mentor text to improve writing
➜ Lesson Planner summary, background info and planning space
➜ Story Mapping Printable identify character, setting, problem and solution
➜ Making Words Activity Page use any word from the book
➜ Focus Sentence copy work, identifying elements of the sentence, rewriting)
➜ Design a New Book Cover demonstrate understanding of the text by creating an illustration
➜ Predicting Activity primary-ruled and wider-ruled versions
➜ Summarizing Somebody → Wanted → But → Then → Finally
➜ Comparing and Contrasting using a Venn Diagram
➜ Cause and Effect analyze how events affect one another
➜ Visualization illustrate visualizations from the story and support thinking with text-based evidence
➜ Making Connections identify text-to-self, text-to-text, and text-to-world connections
➜ Thematic Writing Paper Use with the Writing Prompts... Makes a Great Bulletin Board
➜ 2 Sequencing Activities First → Next → Then → Last and Beginning → Middle → End
➜ 2 Vocabulary Activities Vocabulary Booklet and Word Mapping
➜ 2 Character Trait Activities listing traits and supporting traits with text-based evidence
➜ 30 Text-Based Writing Prompts 3 prompts for each of the following types of writing:
narrative
persuasive / opinion
descriptive
expository / informative
creative / story writing
procedure / how-to
list-making
letter / postcard writing
poem
book reviews
INCLUDED DIGITAL ACTIVITIES:
➜ 5 Teaching Slides to use for instruction (add questions, vocabulary, instructions, etc)
➜ 15 Student Pages for use in Google™️ Classroom or as editable files to create customized printables


---